Trees de Wit met 1/2 pagina in de Trouw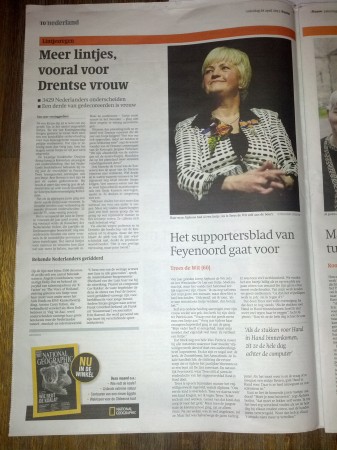 Bron: Trouw, zaterdag 28 april 2012
Het supportersblad van van Feyenoord gaat voor
Vier jaar geleden kreeg Alphons de Wit (61) uit het Westlandse De Lier een lintje. Mooi natuurlijk, maar het voelde niet helemaal eerlijk tegenover zijn vrouw. "Ik sta nog wel eens met mijn grote bek vooraan, maar deze hier is heel bescheiden. 'Goh meid', zei ik toen, 'als er nou iemand een lintje verdient, dan ben jij het.'
Zelf een onderscheiding aanvragen voor zijn vrouw voelde wat gek, dus keek hij zijn dochter Patricia aan. "Vraag voor dat goede mens eens een lintje aan." Vorig jaar tijdens haar zwangerschapsverlof ging ze aan de gang. "Mijn vader heeft er een gehad, maar mijn moeder doet eigenlijk veel meer. Ze verdient een lintje."
Dat bleek nog een hele klus. Patricia moest bij alle instanties waarvoor haar moeder vrijwilligerswerk deed of doet een aanbevelingsbrief lospeuteren. En dat zijn er nogal wat: de kerk, de Zonnebloem, het Astmafonds, de lokale handbalclub, de stichting die ervoor zorgt dat er tijdens het jaarlijkse bloemencorso een boot uit De Lier meevaart. En natuurlijk Feyenoord, waar Trees (60) al jaren de eindredactie van het supportersblad Hand in Hand doet.
Trees is op een bijzondere manier het vrijwilligerswerk ingerold, vertelt Alphons. "Ons eerste kind is overleden. Toen we daarna weer een kind kregen, zei ik tegen Trees: 'Schei toch uit met werken. Geniet van dat kind, dan zorg ik voor het geld.' Maar toen de jongste naar de kleuterschool ging, zat ze alleen thuis. Na zes weken was ze wel uitgelezen, zei ze, maar het was halverwege de jaren tachtig.
Er was toen veel werkloosheid. We vonden het een beetje lullig als ze op een plek zou gaan zitten van iemand die zijn gezin ervan moest onderhouden. Van mijn werk konden we goed rondkomen. Ga dan het vrijwilligers-werk in joh', zei ik tegen d'r." Dat deed Trees met volle overtuiging. En dat doet ze nog steeds. "Als de stukken voor Hand in Hand binnenkomen, hoef ik niet meer veel tegen haar te zeggen", lacht Alphons. "Dan zit ze de hele dag achter de computer. Als het mooi weer is en ik vraag of ze meegaat een stukje fietsen, gaat Hand in Hand voor. Daar is ze heel nauwgezet en consciëntieus in."
Gaat ze het de komende jaren rustiger aan doen? "Moet je eens luisteren", zegt Alphons beslist, "dat moet ze lekker zelf weten. Ik zou het heel erg vervelend vinden als we de hele dag bij elkaar zouden zitten, met de handen ineen verstrengeld. Want dan heb je elkaar 's avonds niets meer te vertellen.
Trackback from your site.