My experience with my Caterpillar CAT S50 phone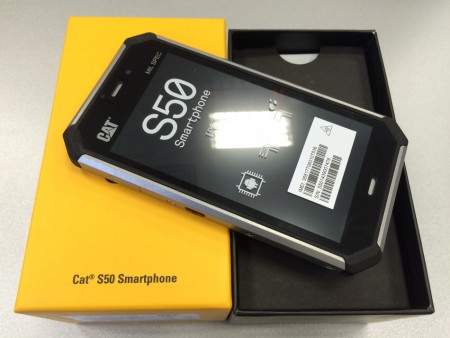 Well…the CAT S50 is good, well somewhat good, at certain things. Thinking about it, that one thing the phone is supposed to be good at, surviving a harsh environment, nah not that great either. My story started out as a search for a phone that would be modern and would survive my young children, who as parents know, destroy phones, and the S50 seemed to be the logical choice…
SIM and SD Card cover pops open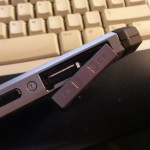 I have to be fair about one thing, it still isn't broken, but it's not what I expected. May 30th 2015 I ordered the S50 for € 445,- in The Netherlands and the delivery went quite smooth via Coolblue. After a month or so I noticed when you drop the phone the SIM and SD card cover pops open. And…that shouldn't happen, the phone is rated to fall on the floor from 1.80 meters. But it doesn't only open when it falls, it also opens spontaneously in your pocket.
Besides that it shouldn't happen there's a good risk the phone isn't watertight anymore with an open cover, so I decided to contact Caterpillar. I thought this is tough brand and their customer service is certainly tough as well, they do not help you…first they ask you for photo's (it's not that they couldn't know, I saw many posts on the internet about this post), then they want to know where your phone was purchased and if you can send them proof of your purchase, etc… well I wasn't in the mood for all that, so I decided to glue that cover shut. Easy solution and watertight.
Shutdown or battery failure
Then another I discovered another issue, if you use your phone until the battery reaches 0% it takes forever to recharge it. It's fine if it drops to 1%, but 0% and it will take forever to start charging again. Since my phone was already to damaged to return it to the supplier I invented a workaround, right now I am using the app Tasker to check for the battery level and when it reaches 2%, it switches off the phone. Problem solved…well not really, because you can only do that if you root the phone and then you violate the warranty…but what the heck.
Android updates
In the first months I received two OTA updates and…yups, you guessed right, one of the updates kept installing and failing, over and over again. BTW this was before I rooted the phone and it was still all stock. Then suddenly the OTA updates stopped and I am now at LTE_S0201121.0_S50_0.019.00, Android 4.4.2 (KitKat). I received no more updates and there is no news from Caterpillar that they will upgrade to Android 5 (Lollipop), so basically they left me with an expensive and already old-fashioned phone…
Conclusion
Only buy this phone if you do not care about modern standards and if you are willing to glue the cover shut. The phone itself is sturdy, won't break that easy, but it comes with some, I hope start-up, failures. Maybe in three of four years from now I will think of buying Caterpillar phones again, since the concept is really good, but it needs some more experience.
*** Update September 13th 2015 ***
Yesterday I received out of the blue another OTA and…it didn't work. After some searching on the web I found that I was not the only one and the good news is that I found a full update which allowed me to manually update the phone from LTE 019 to LTE 023. Even better news is that LTE_S0201121.0_S50_0.023.00 contains proper support for the SD card as well, finally I can write to the SD card now!
Information and download
http://forum.xda-developers.com/apps/framaroot/to-root-thsis-one-caterpillar-s50-t2932196/page20
https://www.dropbox.com/sh/9225htw1b4q065c/AAA701LJRrCWbXgbjo6Tg5nOa?dl=0
*** Update July 26th 2016 ***
After a long battle with the supplier I finally got a replacement phone from Caterpillar which I sold immediately. No more CAT phones for me. At least I got some money back. If Caterpillar or the supplier had been a bit more customer centric from start I wouldn't have written this article.
Tags: cat, caterpillar, cellphone, mobile phone, s50
Trackback from your site.