My experience with my M5 Card Phone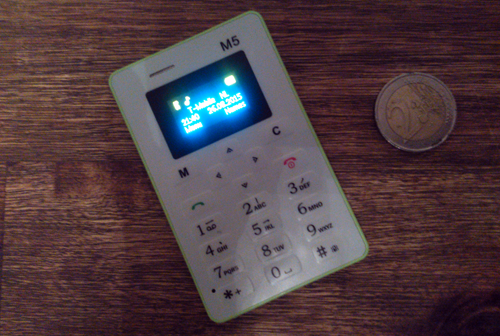 Today I received my new M5 Card Phone! What a nice little phone! I decided to buy this phone because my current phone, the CAT S50, has some issues and is a bit big to carry around if you sometimes only need to called. The phone costed only € 15,03 and I bought it at AliExpress.
Actually I thought there might be a good chance that it wouldn't work, or would have problems with my European SIM, I mean what can you expect for fifteen Euro's? But…it works great! It's a little smaller than two credit cards on top of each other (85x55x4.5mm) and you can charge it via USB.
Features
It has…a phonebook, call history list, messaging (SMS), FM radio, calendar, alarm, calculator, profiles (general, silent, meeting, outdoor), bluetooth, auto-lock and probably some more features I haven't discovered yet. And yes, it really works, I called people and people have called me. The sound volume is also fine, really I couldn't find anything wrong.
Appearance
It looks like a small calculator, feels a bit plasticy, hardly weighs anything and you can get it in a variety of colors. By the way it doesn't come with a manual, I didn't need it, but I'm sure you can find it somewhere on the web.
Conclusion
Personally I think it's a great phone if you need to be contacted and don't want to carry a big smartphone around. This baby has a good feature list (it's not a smartphone, but it's more than enough for a phone), the price is more than acceptable and the quality seems quite good.
Tags: Card Phone, M5, phone, small, thin
Trackback from your site.