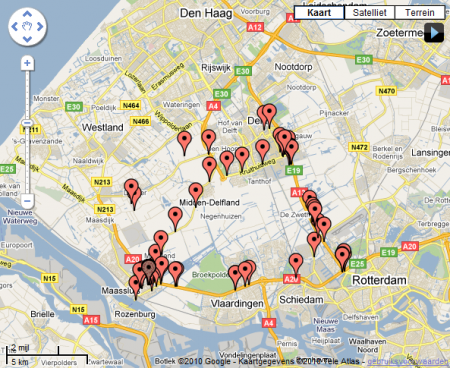 According to Google these are my whereabouts of last week. Looks like I'm going in circles? Actually it's pretty correct, depending on the traffic jam I select a route. Without the traffic jam I use the highway, if not I use the smaller roads.
You might wonder what I use to achieve this. It's pretty simple, all your require is an iPhone and the Latitudie app. The Latitude app sends your location to Google and that's where it's stored. The app is designed to preserve your battery and only sends when you're moving.
Other interesting things are that I noticed Google tried to do something with the data. According to Google I spent last week 23 hours in my home, made visits lasting 15 hours and determined that my working location was the Kruithuisweg in Delft. Almost right 😉 Noticeable was that Google said I took a trip to Arcen previous week, spot on.